I've finally finished my mother's wedding portrait! I've always wanted to complete this portrait and am very happy I did. I think I'll do it again in another medium in a more loose style using a different medium like watercolors. I did use a lot of artistic license with the colors of the kimono and headdress, and instead of the wooden wall that was behind her in the original photo, I thought a Japanese scroll of Mt. Fuji would add a nice affect. I've entered this in a contest and am hoping it will be a consideration.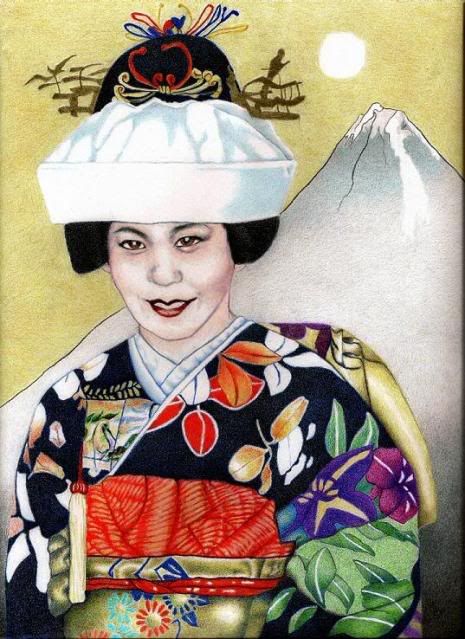 Japanese Bride (8.5" x 11.5" ~ Colored Pencils)
I participated in a mixed media swap using melted crayons. My husband made a stand for my iron so that it would sturdily balance the plate up. I covered the plate tightly with aluminum foil and set the tempurature to medium, though I think it could have been lower. I drew with crayons right onto the foil about card size and using long tweezers, I placed the card down and gently patted it down to capture all the melted colors. It's like a more brilliant form of encaustic except on a much smaller scale. The primary and metallic colors are especially beautiful and vivid. Sometimes, I would try to control and draw a subject - but with only one exception, the colors just melted in it's own form. After the colors were on the cards, I tried to get all the wax out by using paper towels and ironing the wax out batik fashion, but not all of it came out. I could still add different mediums to it, so it was fine. I used free association and let the card tell me what it was going to be using pens and in one occasion, white goauche. The cards received very nice comments and it was suggested that these would transfer nicely on to canvas, and I'll definitely look into that.
Melted Crayon Swap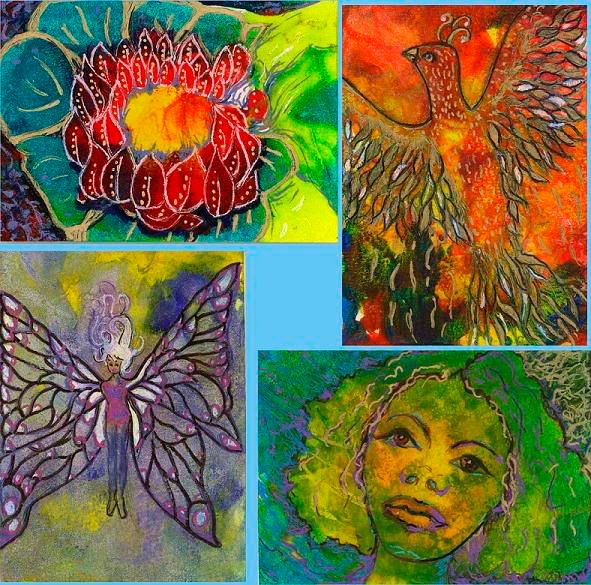 Clockwise beginning with top left: Lotus Flame, Phoenix, She's a Rainbow, Silvery Butterfly Girl