The beginning of March saw the stock market dip too low and the song "It's the End of the World As We Know It" by REM was very apropros. And, I was feeling fine until my torch was extinguished on Survivor - Dunham that first Friday of March; there were quite of few of us who had to go. It was a brutal day and it just sucks to be the ones who had to go. I was very proud of the fact that I was going on 15 years, but the times are hard and my job was phased out. Then there was news that an old friend had stage IV breast cancer.
From the 70s, I remember reading Carlos Casteneda's "The Teachings of Don Juan" where Carlos is being tested in a very frightening way. He' s all frought with worry and is frightened, and then Don Juan told him to go into his "power position" which puzzled Carlos. It turned out that Carlos' power position was writing and taking notes. And so, instead of allowing myself to worry and be scared, here I am drawing and painting my heart out. Another thing to survive, but heck, I'm a warrior artist.
I am currently working on a portrait in my very
controlled
colored pencil style and if it looks pretty good, I'm going to submit it to a contest. Even if it doesn't win, I'll have one of my five entries for a juried show in October. I'm also in a lot of card swaps, I kind of over did this. The one that scares me the most is the Surreal swap. I just have some dream images that come to mind - nothing I would put down on paper. I hope I come up with something soon though, time is tick tick ticking away. I'm starting my own business and am working on a name. I'm thinking
"Sora Blue Arts"
or
"Sora Wind Arts"
(Sora is the Japanese word for sky) something with the love of sky in it. People actually sell their cards on "My Etsy", but I also want to sell other art. I've found some drawing and painting sites and hope to get on to those, and I'm joining the Colored Pencil Society. As I get more comfortable with the other mediums, I may join those other groups. It'll be great connecting with other artists, plus it's so important to have your work critiqued. I need to hurry up and create a large body of work and colored pencils will help me do it. I'm playing around more with watercolors and acrylics and am beginning to feel more confident about painting. So WOW, now I have a dream come true with opportunity to do it and that is to draw, paint and think up new art to do. It's my heart's work and I'm just loving it; I'm working on getting some income with it.
Our friend passed away early March and we celebrated her life at Torrey Pines Sunday. Going there was like a flash-back to the 70s when all my adrenaline addicted friends (husband included) use to jump off the cliffs and go hang gliding. And there were a lot of hang gliding friends there, all older but still wonderful. So many people came to honor and toast this lovely lady; even the dolphins came out to stay and play in the waves. I believe she was there and loving it all. One important thing about her life that I took to heart, is that she loved her life and lived as happily as possible. Success was not based on a job title or how much money she made, but rather on living a happy easy life. She was an incredible success and we will miss her very much. We all believe she's flying high in a different way now.
I hope to show some different art in the next posting, but here are cards I've completed for March.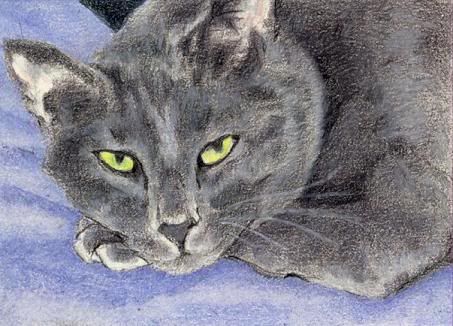 Elke for Katilady
(Colored Pencils)
Some flowers from my garden for the Flower Swap: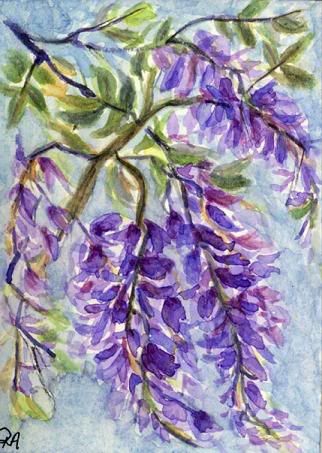 Wisteria (watercolor)
Nasturtiums (watercolor)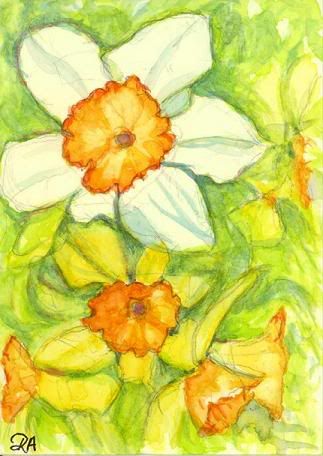 Daffodils (watercolor)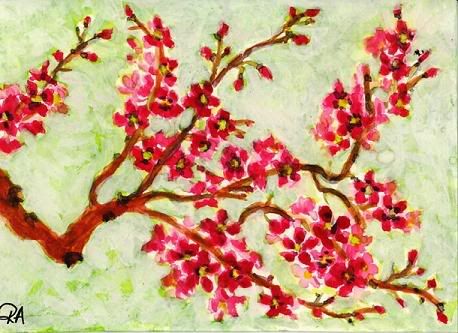 Cherry Blossoms (using Chinese brush method in watercolor)
For the "Things in the Sky Swap"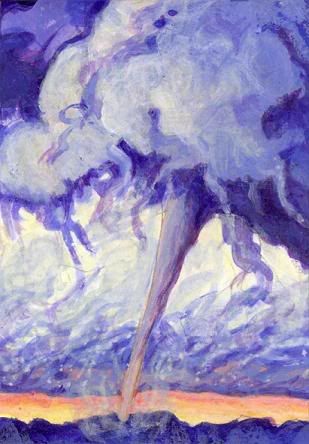 Tornado (Acrylics)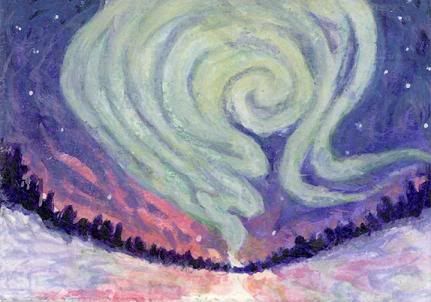 Aurora Borealis (Acrylics)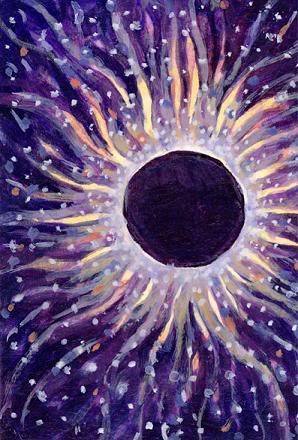 Super Nova Eclipse (Acrylics)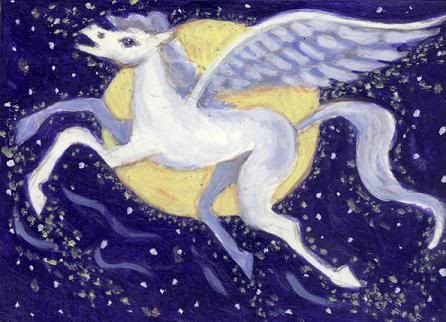 Pegasus (Acrylics)*He's more illustrative, I'm trying to get a whimsical illustrative style for the courses I'm taking with both Children's Illustration and the Whimsy Style on the ATC site. It's hard to get this right on this small scale.
Photo Bucket won't allow my cards to be show for the Figurative (Nude Swap)...oh well.
For the Favorite Movie Pat: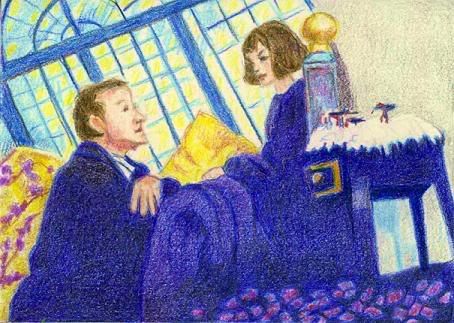 What Dreams May Come (Colored Pencils)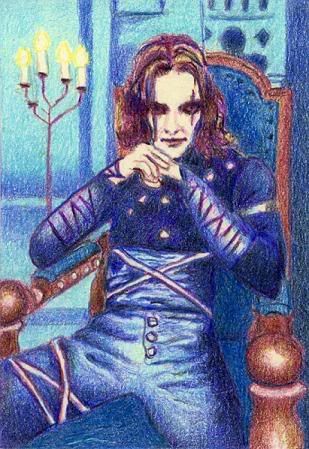 The Crow (Colored Pencils)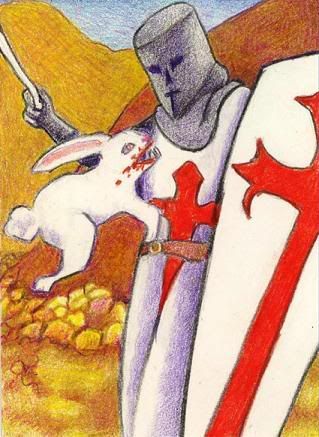 Monty Python and the Holy Grail (Colored Pencils)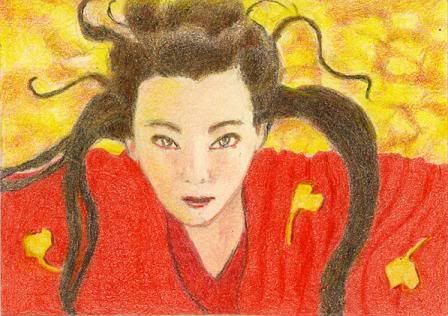 Hero (Colored Pencils)
Two trees for the Tree Themed Contest and also for a RAK gift: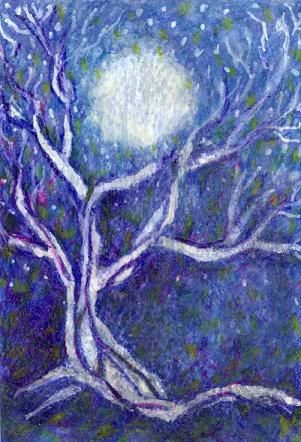 Moonlight Tree (Watercolor, colored pencils, medium)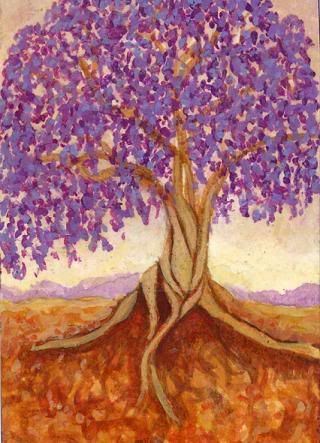 Jacaronda Tree (Acrylics)