I've started my own business called "Blue Sky Arts" - hence the change on this blog. I am busy designing the logo and learning all about implementing a website. And, I am intensely making art in all it's forms ~ ATCs/ACEOs; Illustrations; Paintings; Portraits - both pet, children, and adults; and crafty things like bookmarks, jewelry, and other items.
I am working on a colored pencil portrait entitled "Japanese Bride" and hope to enter it in a contest. I'm about 35% completed and as you can see, it's done in a tight, realistic style all in freehand. This is a portrait of my own mom when she was married in the 50s. My reference photo is not especially clear on the colors.
Japanese Bride (8.5" X 11.5")
I completed this pet portrait, also in colored pencil, of the dog Brody for a church donation. It's the first portrait/piece from my business. I adore doing portraits of any one's beloved pet or person. This dog is getting up there in years and this portrait will hopefully bring loving, happy memories to Brody's owners.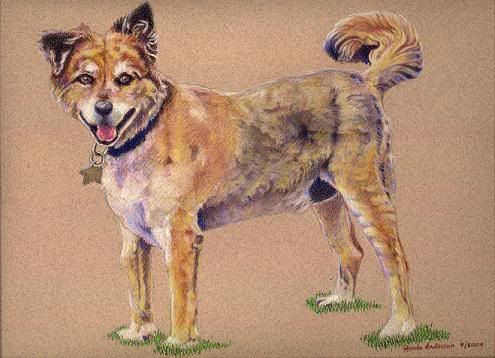 Brody (10.5" x 14")
For Illustrated ATC, I recently participated in a Surrealism swap. It was very difficult to come up with concepts and I was constantly blurring the lines of fantasy with surrealism. These cards were done in watercolor pencils and colored pencils with some fo the card's highlighted by white goauche and micron pen.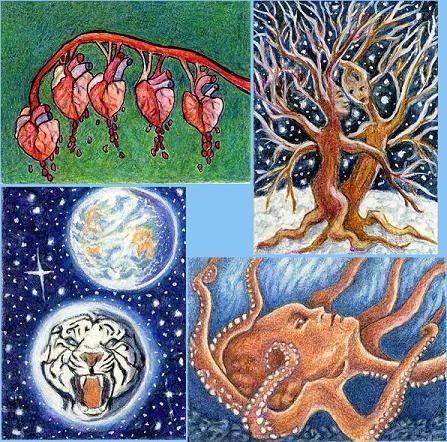 Surrealism Swap (From top left, clockwise: Bleeding Hearts, Dancing with the Stars,Octopus, and Dark Side of the Moon)
One more card for A4A is this Sunflower. It too is done in watercolor pencils, colored pencils, and micron pen.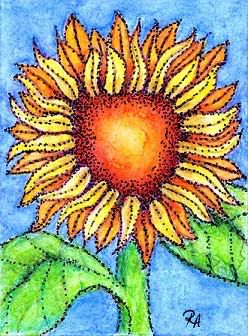 Sunflower
I'm mixing up the styles with realism, illustrative, and whimsical illustration with each card. I'm trying very hard to be diverse and become stronger with each expression as I find my way to my own style.