I recently participated in the Favorite Artist Pat wherein I was put in a group of 4 other artists with each listing a favorite artist. We were then to do cards based on those artists and then send them in to be traded to our partners. I was very intrigued with Fernand Knopff and his people. The artist preferred Fernand's architectural paintings, but I was too dazzled by his people and the potent moods they had about them. In observing his paintings especially with the people, I found myself telling stories about the paintings but really I was telling stories about myself and had to laugh at what a spell his paintings can cast. I ended up compromising and doing a blue-winged white headed bust sitting on an old wooden shelf with a rose entitled "I Lock the Door Upon Myself" which is done after a poem. It certainly caused me to think about the ways in which I have stood in my own way. All the colors are muted except the wings and the face. I also enjoyed doing the "Zebra Mom and Baby" by Mandy Brockbank with the pattern of the stripes and the cute little zebra face. She lives in South Africa and does paintings of the African culture with both people and animals. Lowell Hererro's "Rocky Selland" is a crack-up. I love seeing kitty art especially when they are funny like this cat sleeping as hummingbirds buzz around him. Hererro often puts kitties in compromising situations and tells funny stories with his wonderful compositions. What can I say about the beautiful soul of Laurel Burch. She lived in San Diego and didn't have much to offer in the working world except her art. She followed her heart's work and began selling her stuff on the street. One thing led to another and now I have some of her beautiful socks, t-shirts and I have given her things as presents. I currently have two journal books by her and they are mesmorizing. Her use of color is so beautiful and she so lovingly depicts her subjects. Unfortunately she had a very rare type of cancer and passed away in 2007. Laurel is so very missed. Here are my representations of these artists: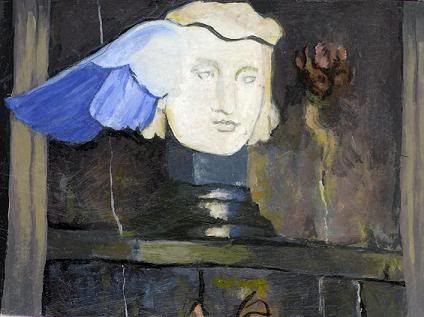 "I Lock the Door Upon Myself" ~ Fernand Knopff
"Zebra Mom and Baby" ~ Mandy Brockbank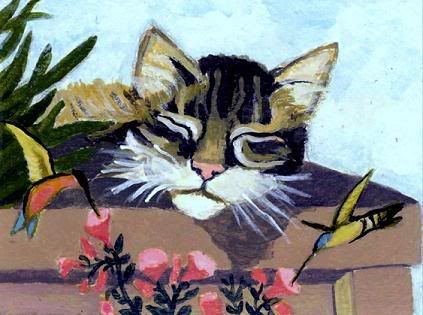 "Rocky Selland" ~ Lowell Herrero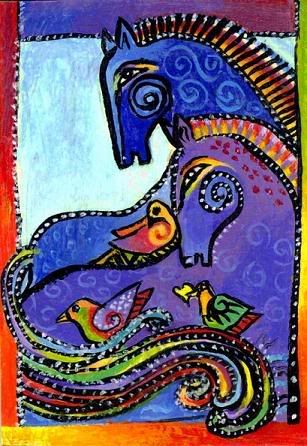 Composition with Horses and Birds ~ Laurel Burch
I am nearly done with the next set of cards for the Favorite Movie Pat. I just need to finish one more card for the movie "What Dreams May Come" and they'll be off. I've done about 2 cards so far for this movie, but I don't care for them. I'll work it out later today and then begin the next series of card swaps I've been joining and there are quite a few of them. I'll be curious about what I come up with for the Figurative cards, it's been ages since I've been in a life drawing class. I use to really enjoy it as our instructor would force us to think and draw outside our box. One day I could only draw backward slants of the model, the next would be straight lines or certain curves. I was forced to use thick charcoal and had to use my wrist to get line variation/expression and shade. My instructor also introduced us to many models with very different types of bodies, some were little old ladies with ample bosoms and tummies. They were kind of funny because they put on their reading glasses and read their newspapers while posing. One shocking model was a midget. The rules of proportion was thrown out the window in capturing him. I really miss those classes and would love to just go to someone's studio to do this again.
There was an interesting topic on one of the sites about style and then if you can get stagnant from your own style. Some people get bored seeing certain artist's style even though they are perfectly done. I always believe boredom is in your own head and has more to do with you. I find that the artist's whose styles I recognize the most are my favorite artists and I never tire of them. Because of the topic, we were all invited to submit a card on the theme of Fairies and we all have to guess who did what. No one is guessing me for my card...I did do this card in a bit of a rush and it is more of my cartoony style. I gave her a sweet innocent fairy personality, but if I had spent more time, perhaps I'd have made her more mischievious. I myself can only determine 3 artists, and then I'm just guessing in the dark on the rest. It will be interesting to see who has the most correct guesses. I think we all will learn something from this and what a fun game.
February has been one month on a roller coaster for me. I had the travel nightmares upon nightmares of cancelled air flights, rescheduling the next day making me late and then there were mechanical failures on connecting flights. I ended up making it to the last half hour of my sister's wedding reception. Fortunately we did get to spend the evening with her and her family. We were leaving the next day and my brother is the world's slowest person in his morning rituals. I think he wakes himself slowly by taking a shower for what seems like hours. When we took off, my brother who rented the car stuck his GPS on the windshield and thought we were headed to the airport. What he didn't realize was that when he set the GPS at the airport, he was in a dead zone. For two hours we were headed in the wrong direction of the airport and were instead going to California! I finally lost my patience, we definitely were going to miss our flight. I had to make calls but no one would give me the exact address of the airport. I finally called my husband who not only gave us the address so we could have the GPS actually head us in the right direction, but he made the one and only last connecting flight for both my brother and myself. We felt we could get to the airport in time to get my dad on his flight to Las Vegas. However, my brother does not speed...not even a little bit. So we were a half hour late for my dad to make his flight. My brother acknowledges that he was to blame for the GPS thing, not that anyone was blaming him. However, he didn't help things by never apologizing for his error and then telling me it wasn't the end of the world. My sister lost out on hotel costs for the night we were not there, we only made the last half hour of the reception, we all lost time and money on our return flight home and had to reschedule and do another flight at much greater expense. My brother ended up owing more than I did and of course I'll just let it go. The whole thing is absurdly funny, but it wasn't while traveling the same farm fields of Oklahoma for several hundreds of miles. I'll get over it, and next time I'll just make my own travel plans.
I have a new Blackberry Storm, Verizon's version of the iTouch phone. I see why it's call crackberry as I'm constantly checking it while at work and the GPS system in it is heaven sent. I just love gadgets. Another new thing this month is Facebook and again, I can see why it's called Facecrack. I got my sisters to join and it's great to see what they are all up to these days. As an airforce brat and being the age I am, I can no longer remember the names of people I've gone to school with and there were many schools, and my closest schoolfriends are no where to be found:( So it will probably not help me reunite with old friends but there will always be new ones. I spent Tuesday evening helping a friend download her picture and helping her navigate her Facebook page. I don't even know all about it, but am loving some of the games and things you can give like Flair. I'm going to do my 25 Random Things hopefully this weekend and then I'll do the Pyrimid thingy and "tag" others with it. I have so much to learn about the cyber community!
My son is now competing in the USD Mock Trial competition. My husband and I went to one of his practice runs at the courtroom of USD which is quite impressive. There was a retired Federal Appeals court judge presiding over it. Of course, my son is the bomb. The judge had very little criticism for him except about when Caley would object the other students closing remarks, but even then he said it was a competition and in the real world, lawyers do try to rattle each other. My son has been gone since Thursday and that's a good sign in that it means his team has won and is moving on to the next competition. During the trial, I found myself coming up with my own theories about the crime just to have some closure. My son also had an interview with the Public Defender's office last Thursday morning and this is pre-bar exam. Oh, I hope it went well. With these times, no matter how smart/good you are, it's difficult to get a job. I guess we'll find out later, my son's been too busy and is just texting one word answers for the moment.
February sure had it's ups and downs - on the downside all the travel nightmares and being sick with stomach flu. On the up side, seeing my sister and her family, my new phone, Facebook, celebrating our 26th anniversary, seeing my son in Mock Trial practice, celebrated my closest friends birthday - we've been friends for (yikes!) 29 years, and I have new living room furniture on it's way, my office/art studio is finally organized, and finally both my husband and I still have our jobs. We're still working harder than ever, but happily so because one can never take it for granted. There is one more thing, I signed up for a Children's Illustration course online and hope to learn a great deal.