It's hard to believe that a whole month has flown by so quickly. These are certainly very strange times and everyone is worried. Things that in past years were a bit stressful, are now run of the mill and there are more challenges. It's interesting to me that a project I was learning say last month, seemed so difficult. It stays that way until I begin another new project and then suddenly, I'm an expert on the former and the two are not connected. I guess that's how my brain works. So many businesses are clamping down and it's pretty impossible to find a job in this market. We have an exceptional man in the Whitehouse, thank goodness, but he's only human not a super hero. Like President Obama said, we all have to chip in and work hard to get the country in a better place.
There's a wonderful home that I would so much like to buy. It's a corner two-story Spanish home up on the hills with a lovely view of the city below and lovely pool/jacuzzi in the back yard. It's perfect and on short sale by the bank, but it's not worth it. The owners are also trying to sell it for about 5ok more than the short sale price, which I don't blame them but the reality of the times does not favor them. We've had our little house since 1989 when my son began kindergarten, and we had every intention of moving into a larger home. Somehow it never worked out. However, I've been paying down the principal and we have a great deal of equity. Now is the perfect time to sell and buy, or we could re-model and add rooms. It's hard to think about this and then realize that for now, we all have jobs but it may not be so in the future.
I'm also looking at living room furniture. I love my beautiful French provencial overstuffed couch and chair, but it does not like my dog or the guys. They are too hard on furniture, so I'm looking at a leather couch and recliner chair (Archy chair for my husband), something that will last. I'm definitely in the mood for spring cleaning and perhaps some major changes.
In these difficult and strange times, it's good to sit and reflect about some joyful moments. One memory that still makes me all bubbly is when I would go grocery shopping with my son who at the time was probably not even a year old. To keep him entertained, we use to sing and one of our favorites was an old Motown song "Do You Like Good Music". I would begin with
"Do you like good music"
and my babyson would refrain with
"Yeah, Yeah"
-
"Old soul music" - "Yeah, Yeah"!
Before you know it, my shopping was done and we were both laughing at our silly selves. Good times!
Today, I will be going to the annual Vision Quilt art show in Oceanside. Beautiful quilts from all over the world will be on display. The artists employ cloth, thread and other embellishments as their canvas and paints. It's just jawdropping beautiful! Who knows, I may have to support my kind and buy one of those lovely quilts. I'd like to make one one of these days. I also give my "Tiger" box to my friend and hope she likes it.
I have not been living up to my goals yet but I did sign up for a children's illustration course. I have to begin the lessons this weekend, so there will be no clutter cleaning or dusting this weekend. On top of that, I have 4 cards to paint for the Favorite Artist PAT, 4 for the Favorite Movie PAT of which I only have one card drawn out, and 4 cards for the Figure drawing swap. I also have a pet portrait to do, and my friend's children and then my sister wants a portrait of her, her daughter and granddaughter. I'm going to this as a wedding present for her, though I'm not sure if her future husband will appreciate it as much.
Here are some cards I did for the Movie Star Swap and a couple of Silent Stars I traded. I really like faces. Greta Garbo's face should be a natural wonder, how does anyone get to be so perfectly beautiful like that? Louise Brooks was a very intelligent woman who kind of sabotaged herself with her wonderful career. She was poor when she passed away, but she always kept her sense about her and was a joyful person. The 50s stars were not only hot and edgy in their hey day, they gave us great human stories both in their movies and their personal lives. My Marilyn is just ok. I think I need to really study her face more. My Paul Newman, who is a saint, was the most difficult. I must of done 4 or 5 cards and I gave up and settled with this simple graphite. It was frustrating me. I'll have to try to do him another time. I think my Marlon does look menacing and Liz is just the most haughty beauty of the time with those eyes! I have to say, I have received my returns and they are an exceptional Buster Keaton and Clara Bow. They are some of the best cards I have received so far.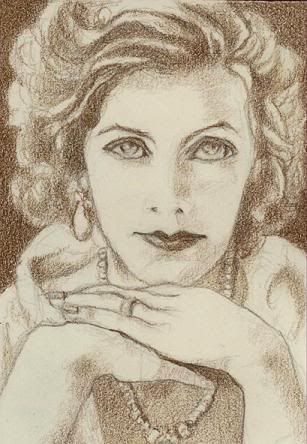 Greta Garbo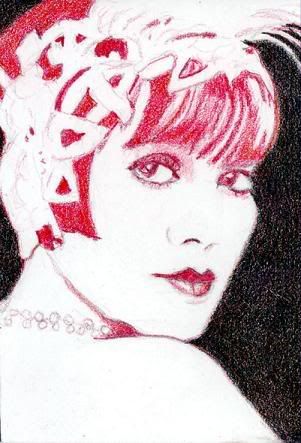 Louise Brooks
Paul Newman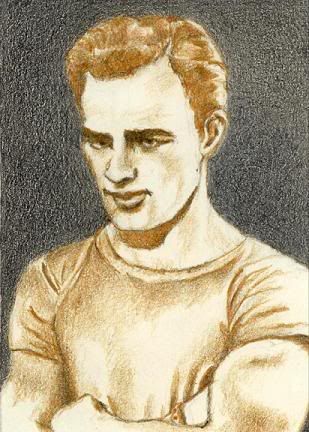 Marlon Brando - Streetcar Named Desire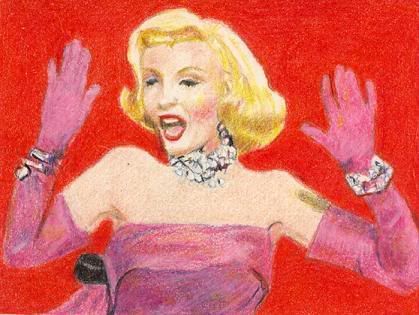 Marilyn Monroe - Diamonds are a Girls Best Friend
Elizabeth Taylor
As a post script, this wonderful Cambodian acquaintance of both mine and my husband sent me some Chinese mixed with Italian candy to celebrate the Chinese New Year. The candies are delicious and my work buddies are enjoying them. I had to have one around 11 am, it was Friday after all - time to celebrate, and picked one of those sticky Italian candies. Next thing I know, my crown is intermixed with the candy! My dentist doesn't work on Fridays, the weekend or on Wednesdays - Mr. Rich La Jolla Surfer Dude! I'm not in pain or anything, but I have to wait until Monday morning to get the crown back on. Yuk!
Oh and two great movies I've seen so far and highly recommend - Slumdog Millionaire and Benjamin Button. The Oscars are just around the corner and there's so many more to see!