I've been on the road a lot for work this week, but thankfully there have been no trips outside San Diego county. Last Monday, I was returning from a downtown appointment on the 805 north back to work, and as I approached the Nobel Dr. exit, the fog seemed extraordinarily thick, but it turned out to be very thick smoke. The smell was different from the San Diego brush fires from several years ago and what a surprise to me to have this kind of fire knowledge. To my left or west towards the ocean is a canyon that was billowing smoke and traffic heading south was at a standstill. Helicopters were hovering about and that's always a bad sign. As soon as I got to my office, I found out that a F-18 jet, due to mechanical failure, crashed into someone's home in UTC and that there were 4 people missing. On the evening news, I witnessed incredible graciousness - here was this man, the owner of the demolished home, who lost his wife, both of his baby daughters, his mother-in-law, and through his incredible grief, showed kindness and understanding towards the pilot who had ejected to safety. I'm sure that this pilot will carry a very heavy burden of guilt for the rest of his life. I suppose it doesn't matter now, but there is some question about why the pilot had to return to Miramar over the heavily populated terrain of civilians instead of the much closer naval training base in San Diego bay (he was doing landing/take off maneuvers on a aircraft carrier in the Pacific). Our motivational quote on our bulletin board this week says something to the effect of how each of us are given many burdens in life to bear in order to find out who we really are. The horror and pain of losing your family and the pain and guilt of causing it all is just to incomprehensible. I pray that both men find healing and peace.
So now it's pretty silly of me to want to whine about all the things I have yet to do and what will not get done. It doesn't help that the house on the corner has a new, obnoxious Christmas decoration which is a count-down to Christmas window sign...it just pisses me off every time I drive home from work. Arty (my fake Christmas tree) at least is up and ready to be decorated and the house has new white/blue icicle lights around it and the light deers are on the lawn. The candy cane posts need to go around the hedge & the entry arbor and the door needs to be decorated. Only more parcel needs to be mailed, cards completed, and then I can concentrate on completing my shopping list on family & friends. I still have a batch of chocolate ginger cookies - courtesy of a Martha Stewart recipe, to bake. First things first, I have to catch up on housework, laundry and then pay bills. I'll try to get some painting in today. My Tiger box is coming out okay. I had a design all sketched out, but the box decided that it's going in a different direction. The Tiger box is going to a friend who is extremely witty and verbal, and who is also a very talented artist. I wanted to incorporate one of the natural elements and chose the "air" quality because it's associated in all horoscopes as the element of communication. I wanted my tiger to represent the Air or Wind Tiger and therefore, my tiger is up in the clouds. I'm working out all kinds of problems of design, color and then painting on wood itself is a challenge. The "zen" thing is not happening. It's been a week since I've put the box down and today, I'm hoping I'll have fresh eyes and new insight and the zen moment will happen and the box will finish itself. There's some consolation as I found a few cute things to go in the box: tiger soap, tiger eye bracelet, tiger socks, tiger stamp, and I also plan to do a tiger eyes bookmark and perhaps some notecards and stuff it full of gold foil wrapped candy. I hope it will be a nice New Year's present even though I was wrong about the animal. I guess I just don't care much for a beast of burden like the Ox and unintentionally mistook 2009 as the Tiger year, As for the ATC cards, well I better get on them because I sure did sign for a lot of swaps & Pats on IATC. I've signed up for another art history - this time Monet is the featured artist, and then I've signed up for favorite movie scenes. There's so many movie moments to just narrow down to 4 cards. I've also signed on to a favorite artist Pat where you do a card in the style of a person's favorite artist within your group. There's some fantastic artists to learn about - it truly is a way to study an artist. It was hard to narrow down which of my favorite artists I wanted, but I chose Jennifer Bartlett a California artist: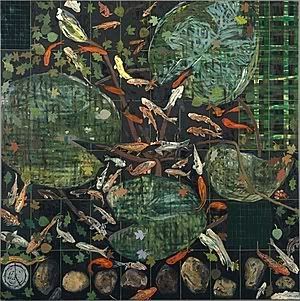 She's just an artist that speaks to me so much and you can see her influence with my koi painting below, though my painting pales in comparison. I can't wait to recieve my cards! I've also joined a Favorite Movie Pat and what great movies everyone in my group has chosen. One artist want's scenes from the movie "Heroes" - the Chinese movie. There's so much beautiful imagery in this movie and I've narrowed my scene down to do a card of the character Snow, dressed in a red gown. She's sword fencing with Moon in a wooded area with trees all in gold. I learned something new and important - my son taught me that Asian fencing isn't as efficient as European fencing and if the two were to dual, the European would win. It seems that Asian fencing is mostly about stabbing and slicing, whereas European fencing is about evading this ....I think my samurai relatives would take exception to that! Back to the cards, this pat isn't due until April of next year, but there's quite a few movies to sit and watch. I'm going to pencil in a lot of cards and bring them to work with me with colored pencils. I can try and get some of the cards underway during my lunch hour, that is if I can break away for lunch.
We had our collective company party yesterday which was fun. It's been a hard year, but we're perserving through the market. Next week, we'll begin the festivities for my fund which has narrowed down to 2 days of Secret Santas and the final day at a nice restaurant in Del Mar where we will bring out our most competitive selfish natures and fight each other in the ornament exchange game! I usually have someone in mind when I get my ornament and this time I bought a beautiful Lion and Lamb ornament when I was in Sedona, AZ. I'm hoping the person I had in mind will get this ornament, I know she will love it
(to post an image later)
. This whole year has been very challenging and hard and it has streched me in ways I never imagined. I'm really growing with my work even though it's been difficulat due to all the defaults. And now, we're running down to the final two weeks left in the year which is 4th quarter and year-end all at once. I know I come off as this gentle, soft, fluffy, calm person, but at my core is a warrior who wants to survive this and live to tell the tale. Take that 2008!