I get the day off today - Yay! Unfortunately, I think I'm getting that sore throat that's being passed around the office. I guess I'll just have to take it easy and do some art instead of cleaning and throwing out stuff and taking down Christmas decorations.
Christmas was great and very quiet. I received another fun new gadget to go with all my other fun gadgets - a Wii, with Wii fit and some games, plus some other nice things. It was nice to spend the day with my family and dog. I had to work the day previous and then the day after, but it was a nice break in the week. Here are some of our holiday photos, unfortunately I forgot to take pictures of us on Christmas morning....Doh!
Christmas Roxy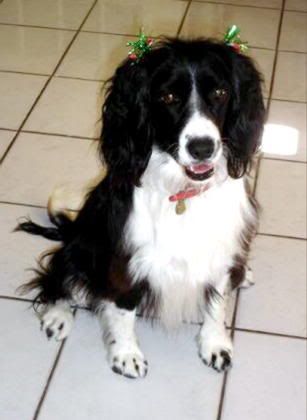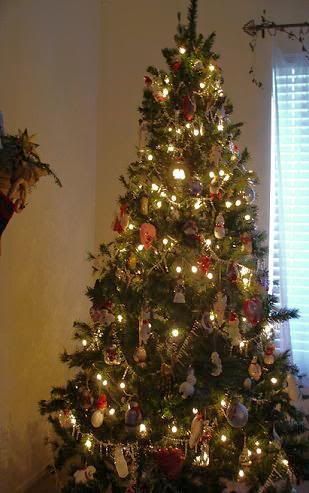 I have some art to show - one is the tiger project. I made a tiger box and was having trouble with stylizing the clouds. I think the clouds came out fine; I'll just know better what to do the next time I attempt something like this. The box is premade, from Michaels, but I should have prepped it much more like I did for the Matroishka doll set. I am going to fill it full with a tongue-in-cheek Chinese Horoscope book, a bar of Tiger soap - it looks like the stone, a tiger stone stretchy bracelet, a glass tiger Christmas ornament, watercolor tiger postcards, tiger stamp, tiger striped socks and chocolate caramel kisses that look like they are wrapped in tiger striped foil. I also have a Tiger calendar that doesn't fit in the box. I'm going to try and do some watercolor bookmarks of tiger eyes. I don't know if I'll be able to get the tiger paper cut finished. That would be an extra item and I have so many projects to do...but I'll see what I can get done today. Here's the box.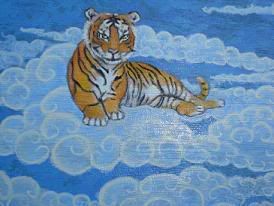 Tiger Detail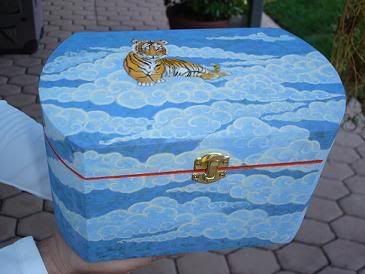 Tiger box for Mae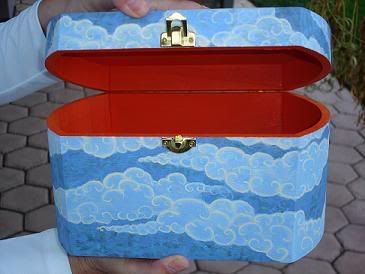 Inside of box
I'm focusing most of my creative hours on the other card site - Illustrated Art Cards. I love the fantastic art and artists on this site. I also feel like my art is better due to the challenging swaps & trades. The feedback on my cards is wonderful and really touches my heart.
I am sure that art was suppose to be my real work in this lifetime. I've tried to make a go of it, but my destiny took me down a different road. I'm definitely learning all about the energy of money in all it's aspects. I just need to get a lot more of it so I can do my art! Having money would mean having plenty of time and resources to do the really fun things in life. I still have fun and am still learning & growing, but I have to grab it here and there. Work does takes up a lot of my time and attention. Though, sometimes at work, an image will pop up in my mind and I have to grab my note tablet to try to sketch it quickly as my sketchbooks are at home. Or I have to make note of it and then try to remember this (my memory is going) and sketch it out when I get home. I'm wondering if those other artists who have different day jobs have as much trouble balancing the time in their lives. I'm thinking our homes may be on the messy / dusty side. I need someone to clean my home, take care of my laundry, and shop and pick up my dry cleaning! My other option to have all the hours I need in a day to do art is to give up sleep...
I joined another Art History 101 swap which is on the artist Claude Monet. Although I find his art full of expression and romanticism, he insists that they are merely impressions of a subject and the time and light of the day that he is capturing. Well, he certainly did pick some pretty subjects didn't he? I think he was just being kind of manly by saying he is capturing impressions like it was some kind of laboratory experiment. I think he passionately loved beautiful gardens, flowers, people, architecture and nature and how it all interplayed with each other. I think he captured the fleeting beauty he saw at a particular time of the day/month/season. When I look at his paintings, I love how he saw and felt about the world around him. He is one of those artists that I would have loved to have known. All I can say, Claude, is that although you say you are merely capturing the impression of the way light hits your subject matter, you certainly have given everyone a beautiful way of seeing the world through your eyes. Here are my attempts in acrylic paint at doing a card in the style of Monet: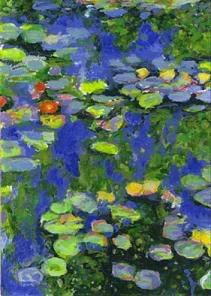 Water Lilies ~ after Monet
Vase with Flowers ~ after Monet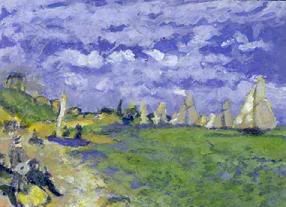 Regatta at Saint Adresse ~ after Monet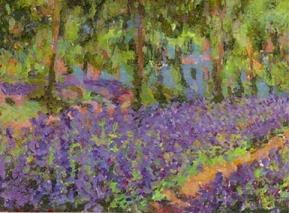 Monet's Garden ~ after Monet
I am currently working on movie star portraits. I thought I'd start out with the ones who were hot back in my parents day and are still legends. I'm finished with Liz, working on Marilyn and then I haven't figured out if I'll do Marlon Brando, Paul Newman whom I adore, or James Dean. I want to do two of the most beautiful & entertaining women of the 50s and then two of those beautiful & entertaining men. I'm also going to do two silent screen stars - Louise Brooks of whom I'm reading a biograpy and I can't decide who else. I'm trading with another artist who does incredible portraits. She likes Greta Garbo and I may do her. I may just end up doing a few of them because I love Charlie Chaplin, Mae West, Gloria Swanson, W.C. Fields etc, and I am fascinated by these people and how they lived considering the times were pretty stifled. Louise Brooks, in particular, who was so very smart and so very human, pretty much gave it all away. I also would like to do the 30s and 40s stars - especially Rita Hayworth, Bette Davis, Katherine Hepburn, Lauren Bacall, Humphrey Bogart, Gary Cooper, etc. I hope I can participate in a lot of these swaps, because I would go through all the ages to present. I love doing portraits of particular genres of either entertainers, artists, musicians, writers.
My new years resolution is to take care of myself healthwise. I never took vitamins, now I'm doing that. I need to move around more, so I belong to a gym, have a Wii and just recieved a Jillian dvd from The Biggest Loser; I think she's very effective. I need to eat better food and less of it, so that's my personal goal. I also need to throw out a lot of stuff and slowly make changes to my home so that it functions better for us. That's it. I hope this year brings wonderful things to everyone. We're on better footing at least with this exceptional new President, Barack Obama
and we should be close to the bottom if not there already financially, so there is only up to go.
Happy New Year!