Another year older, another trip around the sun...I'm so grateful for all the people in my life that I love and who love & support me, for everything that I have, and for all the knowledge & wisdom gained this year. I'm especially thankful for that little voice within that notifies me to take notice of what is before me. What is usually ordinary and mundane, like my hour commute each way to work on the freeways, turns into the extraordinary when that voice says look up and there is a beautiful red-tail hawk sitting on the lamp post or soaring in search of its meal, or the way the sunlight plays on the hills, things like that. I need to pay more attention to that voice especially when I'm getting bogged down by so much work. Sometime's, when I feel sorry for myself and am feeling pretty inconsequential, that little voice pops up and lo and behold there is another handiwork of beauty.
For the Art History - master painter series, I wanted to do my cards after Modigliani, Peter Max, and Hokusai. Modigliani did beautiful, highly stylized portraits. He was a student of Klimt, but his life was so tragic and sad. I painted the Modigliani cards in acrylic paint and in doing so, I learned so much more about the face as a landscape or stage of expression of the inner soul. He used delicate lines, beautiful rich colors and exaggerated the features especially with the eyes and the telltale long neck. I love everything about Peter Max, especially all his "hippie" art from the portraits of the Beatles to his current art. Andy Warhol's paintings, though beautiful and unique, are in my eyes cold and impersonal. Whereas, Peter Max's paintings are so alive with beauty & color and they invite you into his wonderful world. Then there is Hokusai, the best Japanese wood print artist whose work highly influenced Impressionistic European artists. It's very humbling to know that before he died he said something to the effect of how he wished he had more time so he could learn to draw...
Soldier - after Modigliani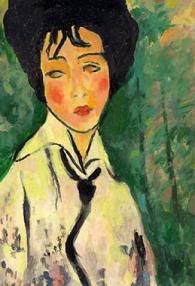 Woman with Black Cravat - after Modigliani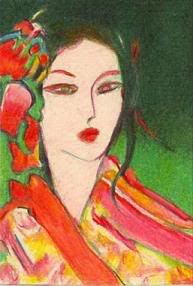 Asia - after Peter Max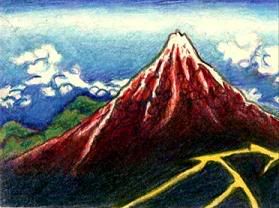 A Shower Below the Summit - after Hokusai
I traded a set of cards for an elephant request with another artist depicting a mother elephant watching her babies play in the river. At first, I was going to split them up and give each card to different recipients, but after looking at it closely, I decided that the babies could be misinterpreted. It's important to emphasize the
size
of the mother in relation to the babies. I think my trade partner was happy to get the two for one! I, in turn, received a beautiful golden fish painted like stained glass window. It is lovely!

Elephant Mom Watching Babies Play in the River