The Madonna concert was quite the bash! It consisted mostly of girlfriends filling Petco Park to capacity. Their was a lot of dancing, singing and happy vibes all around, especially when it was announced that Obama had won the Presidency! Madonna sported an Obama "Express Yourself" t-shirt and sang the song in commemoration of the evening. She was very, very happy! I have to say, Madonna is awesome and quite the dancer. She did have trouble with one song and kind of forgot the words which we all do at this age. It was very cute when she said she had a lot going on her mind these days. The only thing I regretted was not bringing a change of clothes, my feet were killing me walking downtown in heels...ouch!
I went to the Itchiku Kaboto Kimono exhibit at SDMA last weekend with a friend. One room was filled with about 6 over-sized beautiful silk kimonos all in different themes with the most beautiful one being the Sun Kimono. Itchiku was in World War II and was captured and placed in a Siberian prison. He said it was brutal and harsh except for one thing, the beautiful Siberian sunsets which he devoured everyday. There was another larger room filled with 40+ kimonos hung and lined up to create an incredible panaoramic scene all around the room, going from Summer, Fall to Winter with mountains, trees, lakes and clouds, fog, sun landscapes. It was breathtaking! Kobata drew in his designs employing both old Japanese techniques merged with the modern techniques, hand dyed the silk in the old Japanese method, and then he painstakingly embroidered the silk to create each masterpiece. There were even more of his kimonos at the Timken Museum across the way, and of course my friend and I both had to go see the ones there, one of which was an incredible Mt. Fuji scene. Kobata thoughtfully named each of his kimonos, sometimes providing a little story. I am so happy to have been able to see these kimonos in person. They are only traveling to about 3 or 4 museums in the US and then they go back to Kobata's own art museum in Japan. Oh, how I would love to go there! I was actually born in Japan, but I have never returned and don't know my relatives there.
There is way too much going on in my life as usual- family drama that I hope will simmer down, work challenges that continues to demand so much, but my own family is doing wonderful - especially my son. He's been keeping busy and excelling in all his extra activities and he's interning at the El Cajon courthouse. He's been barred in to be able to argue before the judge based on courses he's taken. In May he'll be graduating, then he'll take the bar and by next year, we'll know the results. We just need to find an extra $3000 for him to take a class to help him prep for the bar. I'm sure he would pass on his own, but we want to help him have all the advantages since his peers will also be taking this class. He's doing really well at school, and has been approved to be on the mock trial next spring. He also writes for the International Law Review and recently was a very valuable member on the Trivia Team for USD. The only downside is that with the way the economy is going, law firms are not hiring. My son wants to be a trial lawyer, so I hope his stint at the courthouse will open a few doors for him. He's just a brilliant young man...I know I'm a proud mom, but all his professors would stand by and say the same. Well, I guess I'll worry about that when it get's to that point.
I have been keeping busy with the art cards and am trying think about going in a slightly different direction the coming new year. The ATC sites I belong to have been a godsend and have brushed me up so much. I've made something like 70 or so cards now, most of them are just okay but there were a few really good ones that could be expanded onto canvas. In the past, I painted in oils on large canvas trying to employ a very expressive manner using a lot of color and motion with my subject matter. I wanted to combine both Gaugin and Van Gogh with flat compositions like Gaugin, but in a painterly way like Van Gogh. In 1997, I did this painting that in my opinion can never be finished.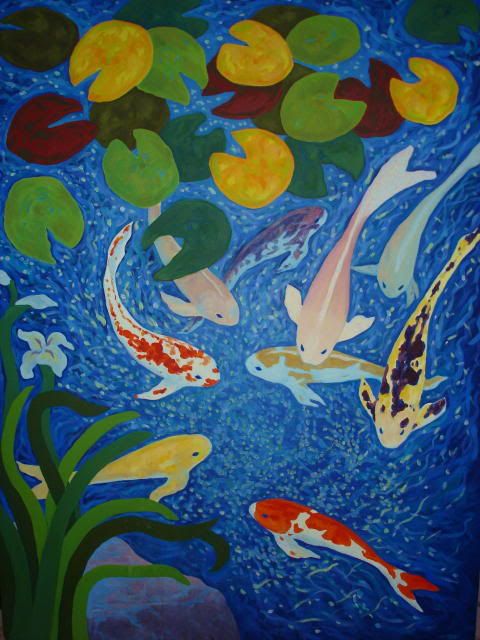 "Koi Pond" (Oil, 36"X48", 1997)
After doing these cards for almost a year now, I'm thinking about oil or even doing acrylic paintings again except on a smaller scale. I'm sure there will be a lot of compromises to make, as I love to work with big spaces but the prospect of having a lot of paintings done is exciting. I have some ideas about doing a colorful tiger series. I love doing beautiful scenes or people/animals. I thought next year would be the Chinese year of the Tiger, so my artistic friend and I are going to make something tigerish, arty/fun for each other as a Christmas exchange. I've got two ideas for her, but I better settle soon because Christmas will be coming soon. Unfortunately, as it turned out, the coming year will be the Chinese year of the Ox! I still like the tigers better and I'll have to tell her afterwards if she doesn't find out sooner...!
I also met up with a couple of members from "ATC For All" here in San Diego. It's was a very fun day in Oceanside (One of the members lives in a condo with an ocean view). It was a very wierd weather day in San Diego, all blustery and windy and the waves were huge and choppy. Still it was good to meet new people and see their collections and their art style. They mostly make collage atcs and know more printing and embellishing techniques. I'm pretty much strictly a person who draws and paints, but I can always learn more. I'm not sure what I can offer, but I could give some drawing techniques and how to use your eye/hand in coordination. We plan to get together soon and do art cards together though I don't think I can even do it once a month for lack of time. I'm getting excited though to even do art again with other artists which I haven't done since college and the old airbrush shop days!
Here is a sheep portrait for my November partner one-on-one trade: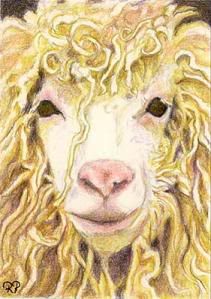 Sheep for Lilbad
- "Spaghetti"
I was involved in an elephant swap where you had to use 3 mediums. I tried to get out of my box and do a collage with paper, and other elephants but when it comes down to it, I don't think it worked out well for me. The hostess wants ideas for illustrations for a kid's book, I don't think she'll be getting any inspiration from me. However, there were two people who really liked my elephants and want to trade. So, I will probably do the elephant most like the grey watercolor as that was natural and easy for me to do. Here they are: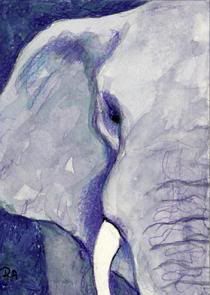 Grey Elephant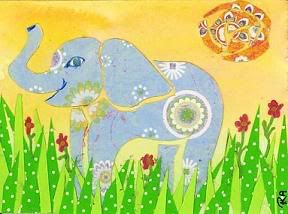 Collaged Elephant
Painted Elephant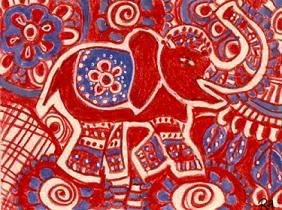 Henna Tatoo Elephant
I also did some flowers all in acrylics. I wanted to join this flower swap, but it was filled up. So I did it anyways and ended up trading them. One thing about painting in small scale is that you can see what works and what needs more work.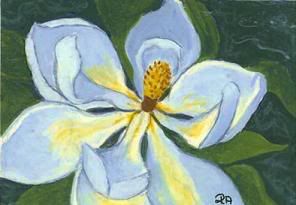 Magnolia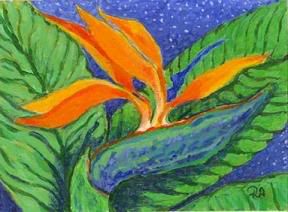 Bird of Paradise
Lotus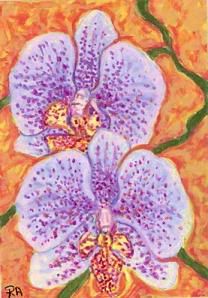 Orchids
Tha, tha, tha, that's all folks!