Hmmm, the market sure has nose-dived and it sickens me to hear about those bank/insurance executives getting golden parachutes for their efforts in impoverishing our country - they just can't get away with it. I don't even want to look at my 401k, my measly stocks, or my son's mutual funds. But that's what October is all about isn't it, scaring us to death! At work, things that would horrify me a year previous has become run of the mill today and yet, there are still more new and stressful things to learn about with absolutely no margin for error. Fun times...
I saw a hilarious art card, it had the cutest cartoon pit bull with lipstick on and there was an American flag bumper sticker in metal and a rifle entitled "Hockey mom's for McCain". I have to say, I so love Tina Fey's impersonation of Sarah Palin. What I've noticed though, is John McCain's refusal to acknowledge Obama on a personal level. With the first debate, he wouldn't look at him and when they shook hands, he looked right through Obama.....not cool. On the second debate, McCain called him "that one there" and when he was speaking to the African-American man in the audience, he condescended and said in effect "I bet you don't even know what Fannie Mae or Freddie Mac is" which was shocking. The guy was laughing and so was Obama. McCain is a pasty-face Frankenstein who should go out to pasture with his wealthy pretty wife (he dumped his other wife who was disfigured in an accident). Well, I guess you know where my vote's going.
Halloween is upon us and we're all dressing up as witches in my fund. I have my costume, but I have to make some alterations - underneath the lacy see-thru gown is a very hootchi black dress.
Here are some things I've done in the interim since my last post:
Most recent is the "Art History 101 - Rossetti Swap all done in colored pencil. It seems that Rossetti was in love with a certain "Stunner" as those red-haired lovely women were known at the time. Most particularly a certain Elizabeth Sedell. He wrote a bunch of romantic poems and stories, but unfortunately she passed away at a young age. He was so grief-striken that he threw those poems/stories in her casket and it was buried with her. Later, he regretted doing this and dug her back up to retrieve his writings....so romantic these Pre-Raphaelites!
Pandora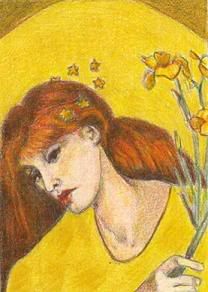 Sancta Lillias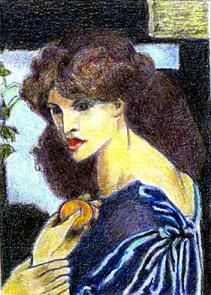 Proserpine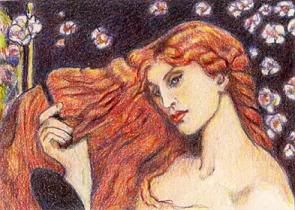 Lady Lilith
For the "Colorful, Whimsy, Funky Portrait" Swap, I did these faces in watercolor, colored pencils, and micron and glitter white pen.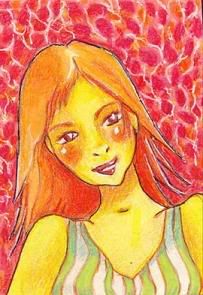 Breezy Briana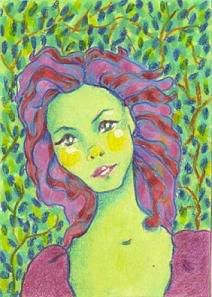 Serenely Sarah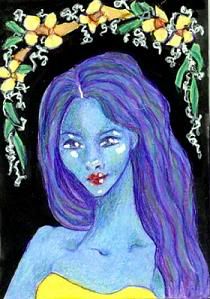 Peaceful Paulani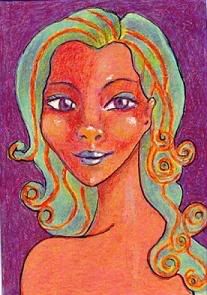 Glamala Pamela
Finally, for the Matroishka Doll set, I did the Addams Family with a character on each half of the nesting doll. It was quite the challenge and they were done in acrylic paint with varnish. A coffin box painted in black and gold was lined in silk tartan (black & blues) and when opened, it played The Addams Family theme song. Here they are:
The Addams Family: Gomez, Lurch, Pugsley, Cousin It, Howie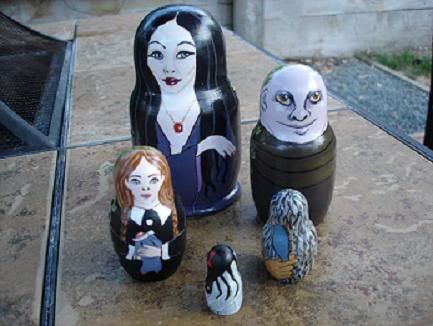 The Addams Family: Morticia, Uncle Fester, Wednesday with her Anne Bolyen doll, Thing brushing Cousin It, and Howie
I also added a fun "Visual DNA" gadget. I took this awhile ago, and then my sister sent it again and the results were the same; I'm such a hedonist. It's a fun little test to take.
Happy Halloweenie!