Oh my goodness! This month has literally flown by....work is still CRAZY....and life in general is hectic, but I'm still managing to have fun and still be creative.
I have to break this ATC addiction...it's become a major hobbie - I think mostly because of the neat people you get to interact with. All my other projects have taken a back burner and what do I do, I sign up for more one-on-one trades.
I feel like I'm going at warp-speed, but that's okay. Work is so crazy and I'm truly worried. I keep asking about job security and the fact that my 401K is based on stocks that I must be saavy enough to choose the right one that'll make the most for me.....yeah, scary! So far, though, it looks like I'm there in the long haul. It helps that investors invest in us.... though, I don't think it would be too terribly bad if I got laid off and could do my art, get exercise and play with my dog, and finally get my house in order and decently cleaned!
Anyway, these are the cards that take up a lot of my free time.....
Day of the Dead Swap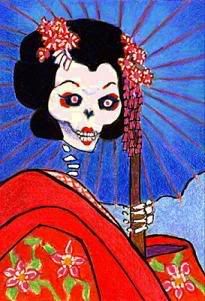 Misako Skull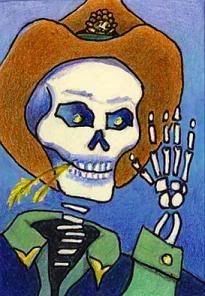 Dusty Bones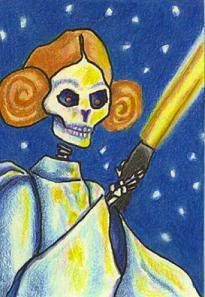 Skeleta Leia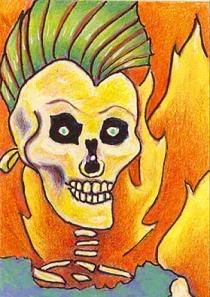 Jonny RottenI could do this swap over and over...
Sushi Swap
Tai, Ebi Sushi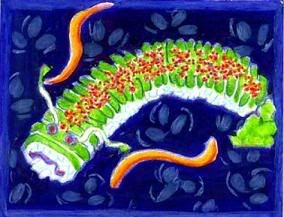 Caterpillar Roll Sushi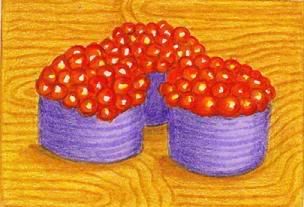 Ikura Sushi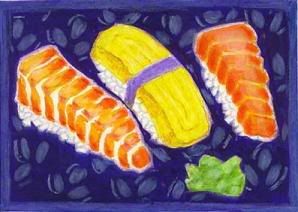 Sake, Tamago, Nigiri Sushi
I'm working on Matroishka dolls based on the "Addams Family". I've pretty much have them sketched out, bought the paints and just need to execute. I've also let myself get into a lot of trades and there are now contests!!! I'm such a carrot follower....
Today, I went with a friend and saw a local play based on Amy Tan's novel, "The Joy Luck Club" and it was so good. Even though I read the book, saw the movie, I still welled up. The local play was heavy on subtlety and suggestion. Unfortunately, while I was watching this lovely play, the Chargers lost in the last minute by a miracle Hail Mary touchdown....bummer.
My husband also celebrated a birthday last Friday and he spent it doing his most favorite outdoor activity of late...ocean fishing with his friend and neighbor. They all caught fish and we had seared ahi sandwiches with wasabi mayo...it was delicious! We also stuffed our faces the next day at his favority Mexican restaurant and then went to Dairy Queen. I was so sick to my stomach, it was like stuffing yourself on Thanksgiving. Why do we do that? Anyway, my son was there to celebrate and it's always great to spend time together as a family which is getting less and less frequent. I didn't take pictures yesterday but I'm going to post a favorite picture I have of the guys together... As you can see, they just love having their picture taken, but at least they are not scowling. Though they don't convey much here, they are both fun loving and good hearted people.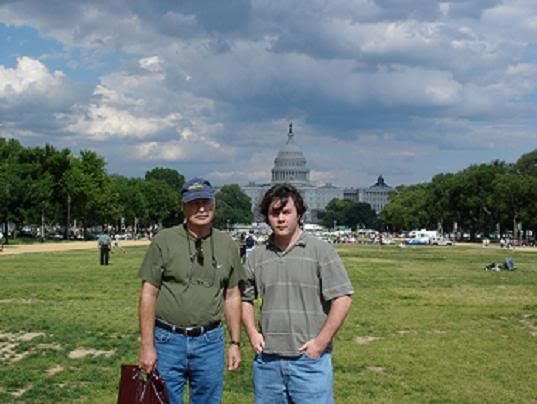 Andy & Caley ~ Washington D.C. '05
Also, I've discovered how to make a banner and put one up temporarily. Now I need to do a decent one....I'm finally getting the hang of blogging and making a better blog site.