I made some new cards doing portraits with one set of musicians and the other in the style of Picasso. The Picasso cards are done in watercolor and colored pencils. Though Picasso was such a playah, he often painted in a new style depending on what lady he was spending time with. I feel bad for the way he depicted Dora Maar in his "Crying Woman" series and there were some hard ones of his last wife - Jacqueline. Those paintings in particular remind me of me when I wake up in the morning and look in the mirror ::shutter::! I was thinking of some iconic women of today and how they might be portrayed in a Picasso style and decided to base my stylized Picassos on Oprah, Martha, Angelina, and Britney. Here is a fun link to play with to make your own Picasso face called Mr. Picasso Head:
http://www.mrpicassohead.com/create.html
The next set's theme is the Funky Musician Portraits. There are so many artists I wanted to do, but in the end I picked the artists that I have every single album/cd because I'm still a fan since a teenager. I did their portraits using colored pencils and in the height of their youthful beauty and glory. Like me, they are all getting up there in the years. I hope there will be more on this theme - it would be fun to do the all the guitar gods, 80s stars, famous rock groups, etc...
I still haven't moved forward in doing paintings or drawings, just these cards. They take up a lot of my weekends that's for sure. My house cleaning has suffered and I've just kind of stopped shopping (still like to internet shop though!). Today though, I have to go grocery shopping as there is no food. I can live on leftover restaurant food forever...
My husband is in the high Sierra's on a camping/fishing trip with a friend for 4 days. I no longer camp....yuk mosquitoes and bears. So I'm home trying to do some home chores, watering the garden/plants and walking/playing with my sweet dog Roxy and doing these cards! Like everyone else, I'm watching the Olympics and the amazing show China is putting on for the world. Michael Phelps is a super Olympic god! The US women's volleyball sand court team, the women's fencing (my son's favorite), and the US gymnasts are all incredible (Yup, those Chinese women gymnast look to be 10 - 14 years old - they have no hips or curves).
These are the latest cards: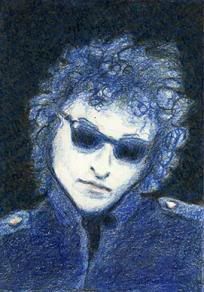 "Oh where have you been, my blue-eyed son? Oh where have you been, my darling young one?...............It's a hard rain's a-gonna fall" ~ Bob Dylan
"Been walking my mind to an easy time, my back turned towards the sun. Lord knows when the cold wind blow, it'll turn your head around" ~James Taylor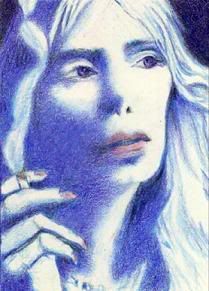 "I am a lonely painter, I live in a box of paints. I'm frightened by the devil, and I'm drawn to those ones that ain't afraid" ~ Joni Mitchell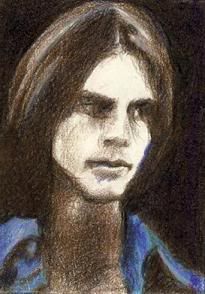 "Well I've been out walking....I don't do that much talking these days.....These days" ~Jackson Browne
Stylized Picasso Cards:
"Let your light shine. Shine within you so that it can shine on someone else. Let your light shine." ~Oprah Winfrey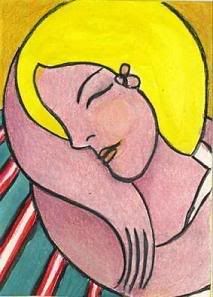 "I catnap now and then, but I think while I nap, so it's not a waste of time." ~Martha Stewart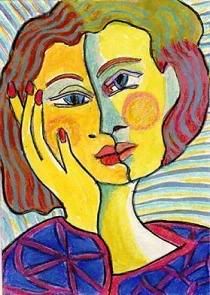 "We come to love not by finding the perfect person, but by learning to see an imperfect person perfectly." ~Angelina Jolie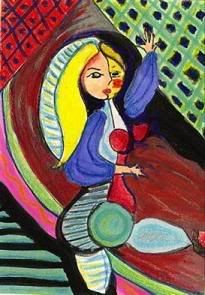 "It's Britney, #%*&!" (Britney's making a comeback soon)~Britney Spears