With African Wildlife, I chose some striking animals - cheetah, gorilla, zebra, and the elephant all drawn and painted in acrylic. The cheetah was covered, recovered and I still wasn't satisfied with it, but I let it go. The rest seem to come out spontaneously.
I was able to get all my June cards in, and now I can concentrate on Father's Day and my son's birthday for which he wants several celebrations at 24! He's a great guy though, and when it comes to having children, I hit the big lotto! Happy Birthday son!
Back to the cards, it's ironic that the "Cheetah" had the most positive comments! I kind of favor the zebra and the gorilla. The same thing happened with the Leo cards. I mulled over the "Angel from the Madonna of the Rocks", and yet it made the cover of the Illustrated ATCS for June (I was so happily delighted!). It got quite a few comments, though not as much as "Head of a Young Woman", but any comment is better than none! I'm contemplating doing another artist - Durer, but I've signed up to so many swaps. My friend Mae is right about these nice comments though, they feed your soul because it's something you treasure doing and to have someone like/love your stuff is just wonderful.
Here are the African Wildlife cards. Next up: Kimonos, Painted Ponies, Name that Tune, and Indian Stories. I'm getting faster and faster, so I hope to start working on other things and keep this going. It's all about getting more confident with your art and time management.
Cheetah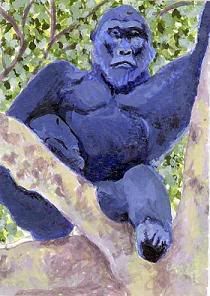 Gorilla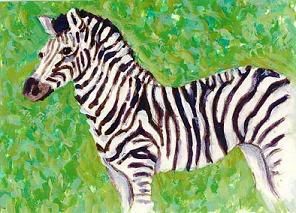 Zebra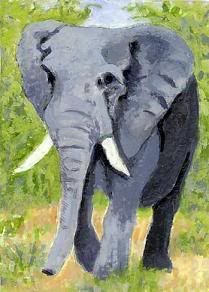 Elephant