Not too long ago, I went to see "Art Alive" at the SDMA and also the art work of an Indian artist, Nandalal Bose. Nandalal painted Indian deities, Indian life and stories, but what I found most interesting are the women and their commitment in the circumstances they were in. There was a story of one very devoted woman that Nandalal did in quick water color sketches. One showed her as a very young woman, so committed to waiting for her God. Everyday, she is out there waiting and goes up in a tree to be as close as possible. She waits her entire life, with the last sketch of her as a very old woman, still waiting and up in a tree. Then there is the very delicate painting (delicate compared to all his deities) of this woman who is about to commit Seti.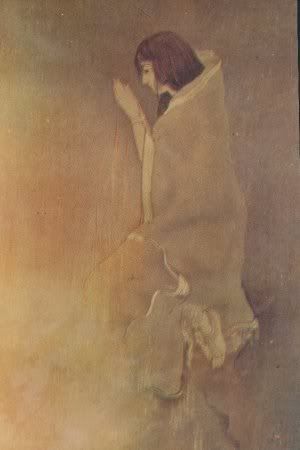 With Seti, the woman dies in order to join her now deceased husband so that they can be married in heaven. This was a widely practices tradition in the past, and may even continue today, though I have heard that it might have been the expected thing to do. For those women who go willingly, it is amazing to western eyes see that kind of spiritual commitment and the love that they have for their husbands that they do away with themselves. Of course, they believe in reincarnation, so what's a life sacraficed?
Art Alive was a fantastic event with all these beautiful floral arrangements done by San Diego's top florists. Each arrangement was made to represent a painting in the gallery. You were allowed to take pictures of the arrangements, but not of the paintings and I will post the photos that came out the best at a later time.
I watched a nice movie called "Snowcake" with Sigourney Weaver playing a woman, Linda, who is very autistic. Alan Rickman is Alex, who has suffered horrible loss. He is involved in an accident with Linda's daughter which kills her, but has Alex connecting with Linda. It's a very touching movie and gives such insight on autism.
This movie represents the type of books I've been reading lately - women who are not at all normal in the conventional sense, but rather outcasts. Calliope of "Middle Sex" is a hermaphrodite and in the book, she gives her own personal view of her life combining Greek culture, historical and family events during the early 20th century, and the wonderful 70's. Now, I'm reading "Wicked" about Elfaba, the wicked witch of the west and her side of the story. They are all heroine's with their own personal truth and what they give to others (of course it's entirely fictional). I like that they take the cards they were dealt with and make their lives work for themselves.
I haven't been very productive this past week. I've been going to a lot of art events, Art Walk last week, a private pottery/jewelry sale yesterday, and today - I'm going to a local show in which my friend Mae will be in. She makes the most incredible acrylic collages utilizing leaves. I have a couple of her 4x4 ginkos and need to get a few more to make a grid collection of the different stages of the ginkos themselves. For me, it will represent my mom once it's all collected and put together. I hope to get down and do some angels later today. What or how I'll do it, I haven't a clue. But I have some ideas about different kinds of angels like how a homeless person is really an angel in disguise, or angels that come to you in real life as a person to perhaps save you or guide your somewhere. I'm also making a special "Angels" music file for my Ipod with "Angels from Montomery" by John Prine, sung by Bonnie Raitt, and "Too Many Angels" by Jackson Brown, etc...
Well, I pray there's an angel guiding my 76 year old father who is now traveling by car with his (actually was my mom's) chow, JuJu. He is moving from Hartford, CT and going back to Las Vegas, NV. He thought he hated Las Vegas, but when he moved to Hartford, I guess he felt Las Vegas wasn't so bad and the winter's are more bearable. He made it through the tornadoes though, and is now in Oklahoma visiting my sister.
Well, enough rambling for now....