I'm finished with the ATCs for the theme "Art Dolls 001", saying goodbye to them forever. They're in the mail today and I hope their new owners will like them; I can't wait to see what comes to me!
The dolls were handdrawn, painted in acrylic and further defined with micron and sharpie pens. They were then glued to crinkle gold paper (with cardstock backing). For the parts of the doll that went beyond the card dimensions, the card line on the doll was scored and then hinged with tape. It all folds up and fit's nicely into the sleeve. With Isis, I'm taking special care with her and her sleeve. Here they are with a brief explanation of who they are.
Bastet - Cat goddess. This is for for all those women, including myself, who adore cats! She is the goddess of joy, music and dancing!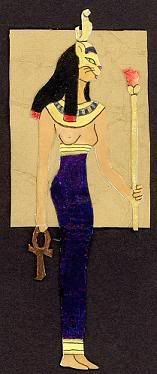 Hathor - Eygptian mother goddess. She represents all that is the best in women. She's the Queen who leads all women.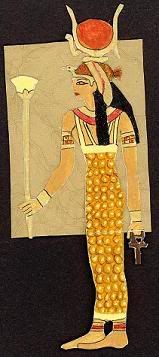 Selket - Goddess of fertility as well as the underworld, the family, tribes & insects.
Isis - Goddess of love, sexuality, ceremonies, health, healing and immortality.
Maybe one day I'll do the Gods and the rulers.
My next ATC project is Marine Life. I'm thinking of picking some unusual marine life like a barracuda, jelly fish, and blow fish.
Well, I haven't been feeling very well but hope to get all those cards done soon. This is going to be a very creative and busy weekend.